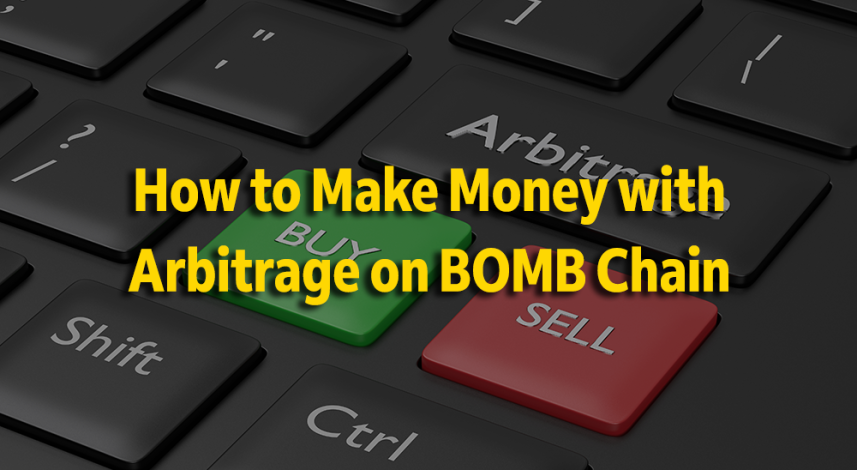 BOMB Chain is an innovative new blockchain launched by BOMB Money and powered by Web3 infrastructure leaders ANKR. The chain benefits from a Bitcoin-pegged gas and governance token, BOMB, and has lightning-fast transaction times and low gas fees.  
Having recently launched, BOMB Chain presents plenty of exciting opportunities to make money through liquidity providing on BOMBSWAP or by staking on the BOMB Money mobile app. However, there's a great opportunity that may be less apparent, and that is through arbitrage. In this blog we'll break down what arbitrage is, how you can identify opportunities, and how you can ultimately make a lot of money taking advantage of arbitrage opportunities! 
What is arbitrage?
In simple terms, arbitrage is the act of taking advantage of price discrepancies. Buy a token for one price and sell it immediately for a higher price elsewhere. Price variations between chains are particularly common and are caused by a few factors including liquidity, transaction fees, liquidity incentives, and market psychology. It's perfectly normal and presents a great opportunity for those who know how to take advantage of it! 
Cross-chain arbitrage is a strategy that involves taking advantage of price discrepancies between the same token on two different blockchains. Let's look at an example: 
BOMB on BOMB Chain is $0.69 USD, while on BNB Chain it's $0.64 USD – 7.81% higher on BOMB Chain vs BNB Chain. 
You buy 5,000 BOMB on BNB Chain at a cost of $3,400. You then bridge it to BOMB Chain using the simple and secure Ankr-supported bridge, and sell it for $3,450 – a $50 profit. Alternatively, you can use this strategy to increase your stack of tokens, in this scenario by selling $3400 worth of BOMB and holding the remaining tokens you've effectively earned BOMB tokens for free through the arbitrage. 
This clearly presents an opportunity to buy BOMB on BNB Chain and sell it on BOMB Chain for a higher price and pocket the difference.  
Ideally, you want to help arbitrage the prices back to parity on both chains so remember to check the price impact (shown at the bottom of the swap page) on both chains to make sure you're in the right ball park. 
As you'll see this is a simple but effective strategy.  Note that token prices can move quickly, so keep this in mind when planning your trading as there can be multiple people looking at arbitrage opportunities at the same time. 
Are there any unique arbitrage opportunities directly on BOMB Chain?
Yes! There's a great opportunity with our BOMBSWAP token that's used to incentivize liquidity within the BOMBSWAP DEX. 
BOMBSWAP tokens can be staked to receive xBOMBSWAP, which allows you to earn extra rewards. Every time an LP is created via BOMBSWAP a small percentage is deducted and sent to the "reward maker" contract. The LPs gathered are periodically broken to buy BOMBSWAP and the tokens are sent to this contract. This means when you unstake your xBOMBSWAP, you will receive what you originally deposited plus your share of additional BOMBSWAP that has been deposited as rewards. 
Sounds like a great way to earn rewards, but where's the arbitrage opportunity?
Because both BOMBSWAP and xBOMBSWAP are tradeable and there's the ability to farm both assets as a pair, various factors can lead to variations between the pair's swap rate and the exchange rate when staking BOMBSWAP to earn xBOMBSWAP. This therefore creates an arbitrage opportunity. 
Here's an example: 
The BOMBSWAP staking page has a rate of 1 xBOMBSWAP = 1.22 BOMBSWAP 
The BOMBSWAP swap page has a rate of 1 xBOMBSWAP = 1.3 BOMBSWAP 
This means xBOMBSWAP is more expensive than the current staking value. You can help arb it back by taking BOMBSWAP (either from your wallet if you already own some, or by buying it), staking it to get xBOMBSWAP and then trading that xBOMBSWAP for BOMBSWAP.  
So how would I identify arbitrage opportunities?
Unless you're a Dev capable of creating an "arb bot" (a bot designed to automatically look for and execute on arbitrage opportunities), you'll need to manually identify price discrepancies. The good thing about this is that only those willing to put in the effort will be able to take advantage of these opportunities! 
How do I get started?
Head to BOMBSWAP and connect your wallet. This will automatically add BOMB Chain to your wallet's networks. Then, review prices on both BNB Chain and BOMB chain. If you identify an arbitrage opportunity then it's as simple as buying the tokens on the chain with the lower price, bridging them across and then selling them on the other chain. 
To bridge you'll need to follow these steps:  
Connect your wallet

 

Approve the token you'd like to bridge

 

Input the number of tokens you'd like to bridge and click "send"

 

Make sure to stay on the page until the "switch network" button appears. 

 

Switch network and click "Claim"

 

Wait a couple of seconds for the transaction to confirm.

 
That sounds great but how else can I make money with BOMB Chain?
Check out the awesome liquidity pools on

BOMBSWAP

. You can earn high yields for providing liquidity, with rewards paid in the BOMBSWAP token. You can then stake your BOMBSWAP for xBOMBSWAP to earn even more rewards.

If you're looking for the simplest way to earn high yields on your crypto you can download the BOMB Money mobile app for Android (iOS coming soon!) and earn up to 29.8% on Bitcoin. You can also earn $50 for every friend you refer who creates a $100 staking position, and your friend will receive $50 too! Learn more about the

referral program here

.