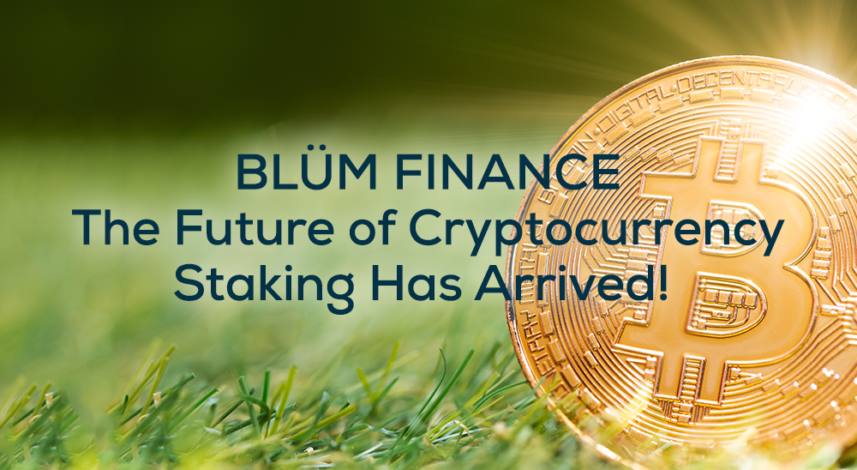 Hello Bombers, Peggers, and Blümers.  Welcome crypto enthusiasts, blockchain believers, and finance futurists! Today, we are excited to announce the launch of Blüm Finance, the latest innovation in the world of cryptocurrency staking platforms set to elevate your crypto experience! 
Experience Blüm Finance: Power-Packed, Profitable, and Preeminent!  
Blüm Finance is not just another crypto platform; it's a new dawn in the world of staking. Designed with intuitive and user-friendly technology, Blüm Finance aims to make cryptocurrency staking accessible, efficient, and profitable for everyone – from beginners to seasoned crypto traders. 
With a robust and secure infrastructure, Blüm offers an unparalleled staking platform that provides an opportunity for investors to earn rewards simply by holding and staking their digital assets. By combining the power of blockchain technology with the security and transparency of BOMB Chain, our purpose-built public blockchain, Blüm helps you maximize the growth potential of your portfolio while ensuring complete transparency for all transactions and assets. 
 The Blüm Advantage: Why Our Crypto Staking Platform is a Cut Above the Rest. 
Blüm Finance stands tall among the crowd thanks to our dual commitment to exceptional customer service and superior returns. While other platforms may leave you feeling adrift in the crypto ocean, Blüm anchors you with personalized, round-the-clock customer support. We understand that in the fast-paced world of digital currency, time is money – and that's why we're always available to help navigate any challenges that come your way. That's why we now have dedicated support staff and live chat working with our customers to help with account creation, depositing, staking, and anything in between.  Blüm Finance doesn't just promise the best experience in crypto; we deliver it, maximizing your investment with APRs that outshine the competition. With Blüm, you're not just staking – you're flourishing in a league of your own. 
Turning on the Marketing Tap: Exciting Times Ahead! 
Hold on to your hats, because we're just getting started! Over the next two weeks, we will be ramping up our marketing activities to ensure Blüm Finance reaches as many customers as possible.  
However, we're not just unleashing all our marketing power at once. Instead, we're taking a methodical approach – turning on each marketing tap one at a time. Our aim is to meticulously test and refine the customer journey, ensuring that every interaction with Blüm Finance is smooth, straightforward, and rewarding.  
Become Part of the Blüm Revolution! 
As we gear up to disrupt the crypto space, we invite you to become part of the Blüm Revolution. Our platform is built to bloom with its users. Your support, feedback, and passion for crypto are the fertile ground on which Blüm will flourish.  
What you can do right away is go to the Blüm website, test out the customer journey (Sign up for our email list, get your Free Stake Position, create a Torus wallet, and even create a Blüm stake position if you'd like), then let us know what you think!  We have launched but that doesn't mean we're not still continually improving.  You can also make some extra money immediately by taking advantage of the lucrative Blüm Finance referral program. Simply refer a friend and when they create a $100 staking position you BOTH earn $25 – no strings attached! 
Stay tuned for more updates as we ramp up our operations and set the stage to become the largest crypto staking platform in the world by 2025. The future of finance is here, and it's called Blüm Finance!