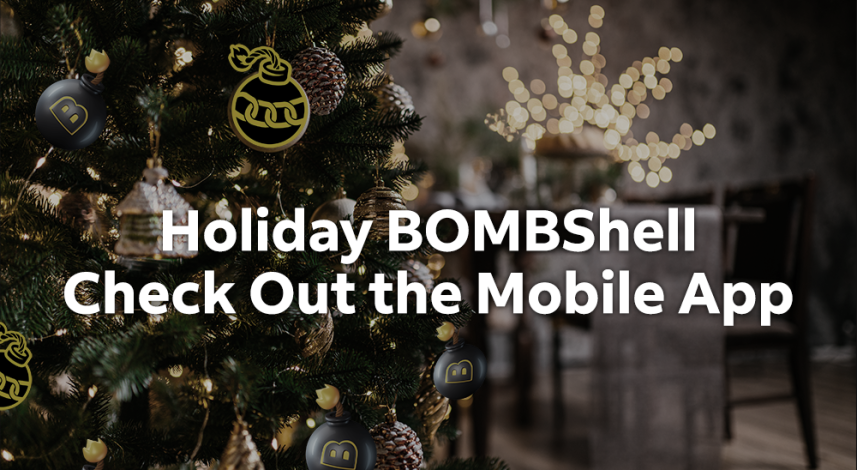 The holidays are fast approaching and we've got a BOMB of a gift for you guys! We know you've been waiting to see what the team's been up to with the mobile app, so we're happy to say it's time to share some screenshots. 
The Making of What Will Become the #1 Staking Platform Globally
Our goal to become the #1 crypto staking platform in the world by 2025 is an ambitious one, but one we are confident we can reach. To achieve this, there are three main components we are building out for our staking service and mobile app – both launching on Jan 9th, 2023.  
As you will see below, all components are at minimum 85% complete and will be ready for launch!
BOMB Chain – Mainnet has been live for over a week and bridging of tokens via an ANKR-built bridge is on the verge of being released to the public. 95% Done! 
BOMB Staking Smart Contracts – These are the contracts that our mobile app users (and future web users) will interact with to stake their blue chip cryptos. Tremendous progress in the last week, and further information can be found below. 85% Done! 
BOMB Mobile App – This has been functional for over a month now, but since then we have reconfigured it for BOMB Chain and made countless UX improvements. 85% Done! 
Mobile App Is Looking Great
The team has been hard at work for months on end to ensure we hit our Jan 9th launch date and go to market with the best app possible. As you'll see from the screenshots and the update on our smart contracts below, we're well on our way to achieving both! 
Here's your first sneak peek at some of the awesome features in the app including wallet creation (literally one-click by tapping "Create a new Wallet"!), staking options, and creating a stake position.  Each screen is designed for ultimate simplicity allowing even the most crypto-illiterate user to start staking with BOMB Money.  As a reminder, funds staked via the mobile app will directly benefit all aspects of the BOMB Money Ecosystem, so get your BOMB, bitBOMB, CZPegs, SnowPegs, and PolyPegs tokens now!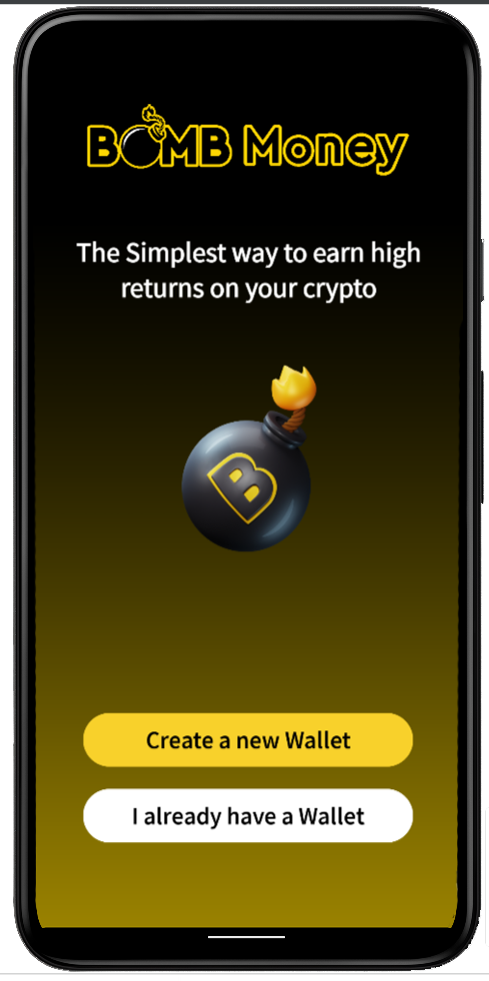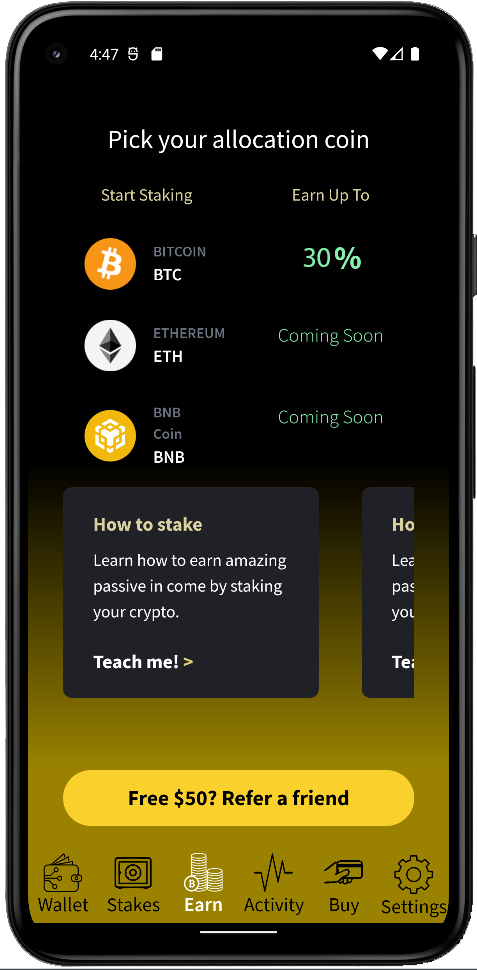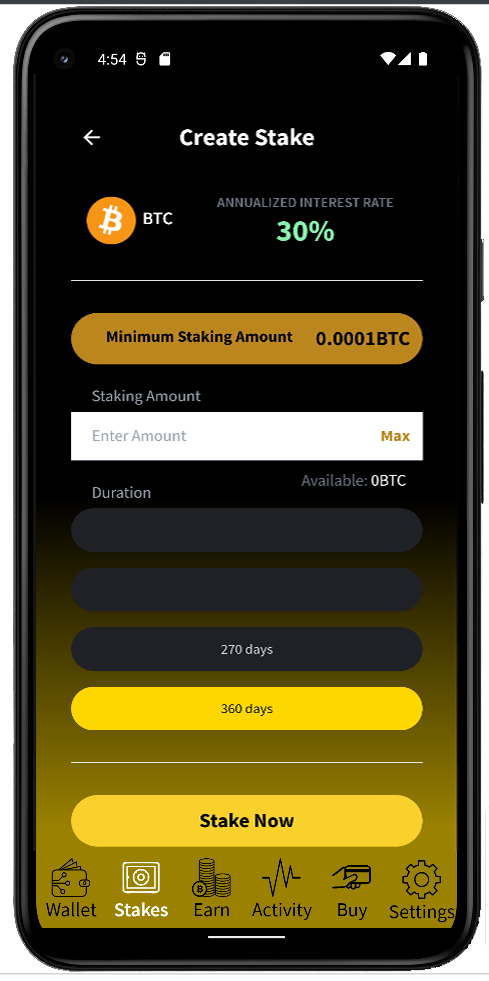 Smart Contracts Powering Our Blue-Chip Crypto Staking
We have a unique, easy-to-use, and powerful system in place to power the core offering of our mobile app allowing the staking of blue chip cryptos for safe and reliable returns. 
We will have these smart contracts audited ASAP, however, before launch we will have several security experts confirm the contracts' safety in addition to various other methods of ensuring safety/security. This includes, but is not limited to, numerous tools which scan contracts for potential issues and/or vulnerabilities. 
The core smart contract is the BOMB Staking Vault. This is the central contract that will hold all staked assets. From this contract, we can deploy an unlimited number of blue-chip staking contracts. 
Staking Contracts as NFTs
Our staking contracts which we deploy from the core BOMB Staking Contract are ERC721 (NFTs). This allows us to mint an NFT as receipt of deposit when a user stakes. This has numerous advantages such as allowing you to transfer your position to another wallet, allowing us to build a marketplace to sell stake positions prior to maturity, and many other advantages we'll add and implement along the way. 
Here are a few examples demonstrating this in action (keep in mind these contracts will NOT be used in production and were only deployed for early testing on the Mobile App): 
Staking 0.000001 BTC, and receiving BTCSTAKE NFT receipt token ID 1: 
https://bombscan.com/tx/0xda059f327142f887db0fb23536ff4f756f8de3eb64745af403d2cc701cd1448b 

Compounding Stake Position resulting in the burning of the original stake position (Token ID 1) and creation of a new one including rewards accumulated from the first (Token ID 2): 
https://bombscan.com/tx/0x87c70fbbbaf7004e882f1b2bfed7bc1fa8c00a3c8b99a0181fef052a9ff1bd12 

Creating new stakes and managing existing positions 
Our mobile app is going to facilitate very simple staking of blue chip cryptos – similar to the simplicity offered by the biggest players in the industry. Of course, our solution is fully decentralized and transparent making it the safest place to stake your crypto. 
All interactions with stake positions will be done via the mobile app initially. 
Here you can see a stake position from within Metamask – demonstrating full ERC-721 (NFT) compatibility.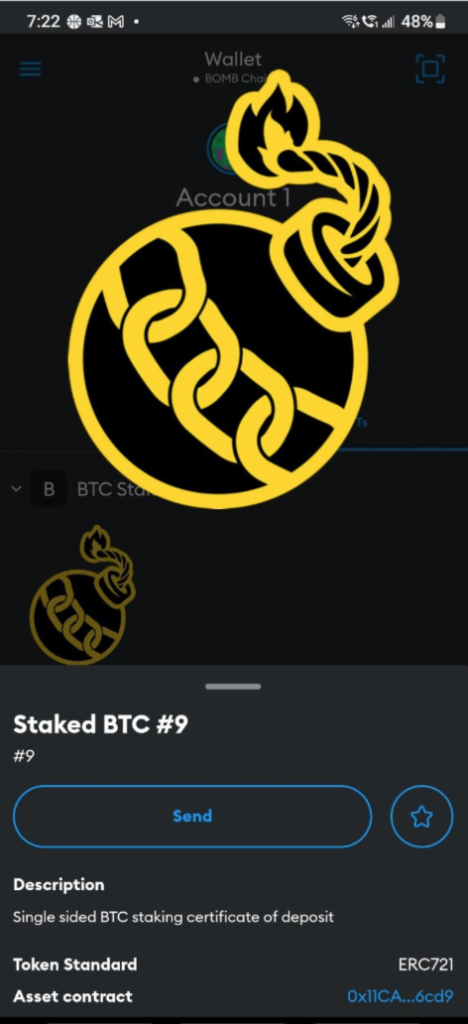 What this will allow is for any builders or existing NFT marketplaces to expand to BOMB Chain and we will already be 100% compatible with their platform. This allows for an interesting dynamic of exiting a stake position prior to maturity by listing it for sale, and also allowing others to enter a stake position at a discount by buying an existing one. 
I'm sure you can see why we're so excited about the launch of the mobile app and all of the possibilities that await BOMB Chain in 2023. We've said it many times before, but all of these contracts and future protocols built on BOMB Chain require BOMB for gas. Demand will be through the roof and there just isn't enough supply at the moment! Exciting times ahead for all BOMB hodlers!!! 
Alternate Times for AMA and Twitter Spaces
There's nothing we like more than hearing from our community! One of the best ways for you to let us know what you're thinking, provide feedback, or ask questions is by joining our weekly YouTube AMA and/or our Twitter Spaces. However, knowing we have a global community, we understand that our regularly scheduled times don't work for everyone. That's why we are pleased to offer new alternate times for both the AMA and Twitter Spaces. We will now alternate weeks with our regularly scheduled and modified times. We'll announce the times for the coming week every Monday so you have lots of time to plan. Here are this week's times: 
YouTube AMA: Wednesday, Dec 21 at 10pm UTC (5pm EST) 
Twitter Spaces: Friday, Dec 23 at 2pm UTC (9am EST) 
We hope to see you there! If you have a time that you'd prefer for either of our weekly get-togethers please let us know.  
In case we don't see you at one of our weekly AMA's, we hope you have a great holiday weekend with your friends and family. 
Happy holidays! 
Your BOMB Family